Boarding for your Dog Kidz
—Sleep Tight
If you are like most loving pet parents, you cringe at the thought of cooping your dog up in a cage while you leave town. Here's the solution…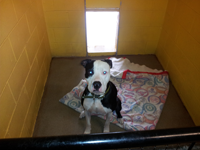 …bring your pup to Dog Kidz and they will have as much freedom as can safely be allowed.
Our pens are huge. We have two sizes. The regular pen is almost 4 feet by 6 feet and reaches to the ceiling. In the back is a dog door that goes out to an incredible 26 foot private run! The run is largely K-9 grass which is a special grass made just for dogs and the run is completely enclosed with fencing. Your dog can choose to be inside the pen where it is temperature controlled or out in the run in the shade or sun.
Our large pen is almost 6 feet by 6 feet with the same 26 foot run. These larger pens are reserved for multi dog families, especially those with larger dogs.
While boarding, you have two options. You can choose
–Simple Boarding or
–Boarding with Daycare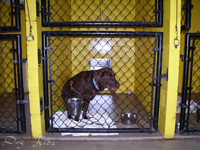 Simple Boarding is excellent for dogs who are not friendly to other dogs. Unaltered adult males, elderly dogs, or dogs with health issues may find this the most comfortable as well. Simple boarding includes two daily visits to our backyard for some running around (by themselves).
Just so you know….People live here on the Dog Kidz property so there is peace of mind knowing that people are always nearby, 24 hours per day.
–safety and security
Dogs never have to cross their legs at Dog Kidz waiting to be walked.
–safe freedom
They can go out in the run anytime. The backyard is just a chance to have a good walk or run and maybe check out the squirrels!
Private Daycare is another option. If your dog is not suitable for regular daycare, we can offer one-on-one daycare just for him or her. This is a 10 to 15 minute session with a staff member that can include ball or Frisbee throwing or whatever you specify. There is a small additional fee.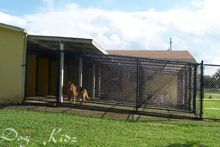 Boarding with Daycare is the true camp experience. Dogs participating in Daycare while Boarding at Dog Kidz will leave the boarding facility after breakfast and join one of our three daycare groups. Read more about our daycare here.They can enjoy a half day and come back to the Boarding House at lunch time or a full day and come back for dinner and the night. You choose what is best for you and your dog or dogs.
—your freedom counts too