There's More!!!
Need something more? We offer a Dog Park, transport, parties, special treats
and more. Here's the solution…
Dog Park — This one acre, securely fenced area, is located in front of the daycare. With your low membership fee, you receive the combination to the park gate and you can come and go with your dog or dogs anytime between 7 am and 7 pm daily. Your furry friend will meet up with other park friends and you can play or sit and talk with other dog kidz parents. With our large gazebo, fountain, pergola swing, agility equipment, and small pool and slides, you and your dog can enjoy some time together in the country sunshine.
Treats for Good Kidz – Sometimes a little comfort food is called for! An appetite encouraging dinner, our Good Kidz Meals are one cup ground turkey and one cup rice – great to eat and great for digestion. You can order a whole meal or a half meal. And a special treat for those warm days, our Gourmet Frosties are paw licking good – and good for them. Frosties are Greek yogurt, Jif Peanut Butter, fresh banana, and honey; frozen with a milk bone. They are available in a 3 oz or 5 oz.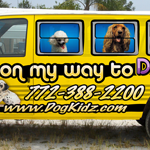 Transport – We can pick up and bring back your dog or pets with our Dog Kidz Van. We can guarantee some smiles from your neighbors! There is a minimum charge of $20 for up to ten miles. If the distance is more than ten miles; the rate is $2 per mile. There are some restrictions including Sundays and immediately before and after holidays.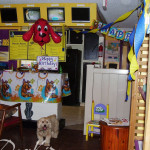 Birthday Parties — Is your dog kidz birthday coming up? While he or she is with their friends at daycare, we can have a party! The party will be held in the daycare and we'll supply the party treats and favors. We include a Marmaduke cake, balloons, and activities such as "Biscuit Hunt" and "Tug of War". We also give out treat bags with your compliments and a produce a photo album for you.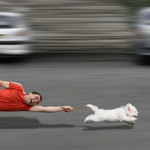 Training — Dog Kidz works with a local trainer for special sessions. If you have an issue you would like the trainer to work on while you are on vacation, we can make those arrangements for you.
Trust For Life – We offer life time care for your pet. By establishing a trust in your will, we will love and care for your furry friend until the end of his or her natural life.